Welcome!
This is where you will find some wonderful older puppies that may be discounted and need some work. Others are available for in house training. Very limited space available this year for Christmas puppies. Please see pups below. Only a few are eligible for in house training.
Violet had her babies by Scotty (see below and to the right:) on 4/6/23
This litter is projected to be toy and a possible pocket size. Price is $800- $1500 The male directly below is $1500 and eligible for training.
Violet boy below: $600 needs socialization and training.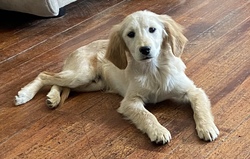 Pepper x Mario kids are A little on the reserved side (and fresh out of the tub so a little on the wet side too) but are totally looking for their new best family. Likely to finish out at 28-35 lbs $350 to a good homes. Born 3/25/23 Must pick up or use a ground shipper.
Rainy X Gideon Toy/pocket boy (below) born March 30th gold $300 due to age and need of training and further cuddling/socializing ~ Price to increase as I get time to work with him.