Miniature Golden Retriever Puppies
About Squirt: I am actually looking through all of my favorites as to where I should cut down and what I should keep. During this time, i have come to realize that most of the puppies I have chosen to keep are indeed, out of Squirt. I was actually surprised to come to this realization. His puppies have the temperament and personalities we are looking for and a high % of "small" has come out of him. I don't recall ever having an alpha/overly dominant puppy from him.....hmm...I will be adding to our breeding program by getting a couple pure bred and high% mini females just so that I can keep him. He may not be the best "looking" male on the ranch but he sure is producing his fair share of really nice puppies.
LADY HAD HER PUPPIES BY SQUIRT ON JULY 13TH!!! 2 FEMALES AVAILABLE!!! SEE BLUEBERRY AND RASPBERRY AS PAST PUPPY EXAMPLES FROM THIS MATING.
Please see our expecting and planned litter pages to get on our other lists before they are full.....
All puppies are registered through Certified Pet Registry. You can visit the registry by clicking here:
http://www.cpryourdog.com/breed_standards.php?bid=618
Lady x Squirt Females born 7/13/14 below.....2 available:
Priced at $1200 until Late Nov. 2014 when training begins. After training, their price will increase above the "puppy" price (found on our size and price page) as they will have both high titer parvo and distemper shots as well as their 1 year rabies shot. If you are interested in either girl already started on training, please email me for details and post training price.These girls are excellent little ladies that will mature between 25-35lbs. The lighter one is pretty happy and loves the ball. Darker one is very subdued and extra sensitive and sweet. She will do best in a quiet home that would love to cuddle and encourage her without overwhelming her. These two girls are currently being doggy door trained as well.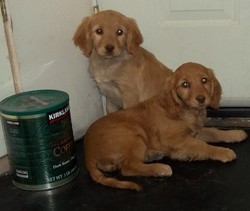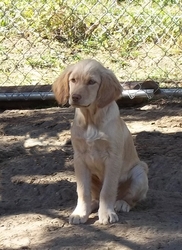 JADE X SQUIRT boys above and below born 6/6/14: Top boy is more quiet and reserved and bottom boy is more outgoing. BOTH boys are working on their crate, leash and "come" training. They should be pretty well trained in those areas by about the 26th of Nov. Give or take. These boys are being offered as already well started, older puppies. They will be up to date on their parvo, distemper and rabies for 1 year and will ship in the crate that will work for crate training from now through adulthood. These boys weigh in at about 30 lbs now (bulk of their growing is complete) and will mature under 40 lbs....likely between 33-38 lbs. $1200 + $450 (older puppy) Shipping. Ready late Nov. 2014