Miniature Golden Retriever Puppies
LADY HAD HER PUPPIES BY SQUIRT ON JULY 13TH!!! MALES AND FEMALES AVAILABLE!!! SEE BLUEBERRY AND RASPBERRY AS PAST PUPPY EXAMPLES FROM THIS MATING.
Jade had her puppies by Squirt on 6/6/14!!! Males only available!!!!*****(as of 7/25/14)
Please see our expecting and planned litter pages to get on our other lists before they are full.....
All puppies are registered through Certified Pet Registry. You can visit the registry by clicking here:
http://www.cpryourdog.com/breed_standards.php?bid=618
Lady's girls! Females are currently available as of 7/18/14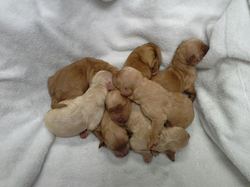 Lady's Boys! 2 males are available as of 7/18/14