Miniature Golden Retriever Puppies
Individual pricing next to each puppy/litter.
Jamaica had her puppies by Mickey on 11/18/16 (ships mid Jan 2017)
Ally had her litter by Wooleybear on 11/6/16! (ships after Christmas)
Kira had her litter of puppies by Kokomo on 10/29/16!! (Can ship likely 12/23-24)
Liberty had her litter by Mickey! 10/19/16!! (Can ship by Christmas!)
Lady had her puppies by Kokomo on 8/29/16!! (Ready now!)
Nilly had puppies by Wooley on 7/18/16!!
AMY had puppies by Wooley on 5/15/16!!!~ (Ready Now!)
All puppies can be registered through
Certified Pet Registry. You can visit the registry by clicking here:
http://www.cpryourdog.com/breed_standards.php?bid=618
Nilly x Wooley (very calm/sensitive) cream males below: $1000 Likely to mature 35-45 lbs. 71.5% Golden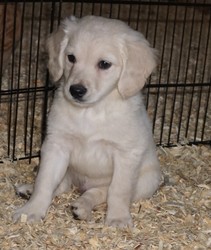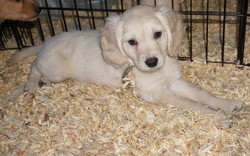 Rose X Wooley Puppy below: 79.5% Golden Retriever
Born 7/16/16
Likely to mature between 28-42lbs
Video upon request
$1500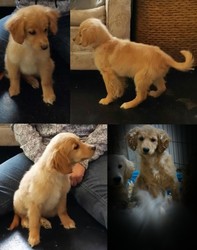 Ally X Wooleybear litter below: Click on pic to enlarge. $1500 each. 81% golden.
Likely to mature 35-48 lbs

5 females available as of 11/8/16
1 male available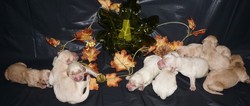 Liberty X Mickey litter pictured below: $1700 (Christmas Shipping)
Estimated maturity~ 25-43 lbs 61% golden retriever.
1Female available as of 11/29/16
2 Males Available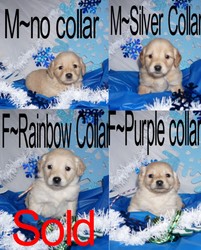 Lady boys below: $1400 Very mellow litter. Likely to mature 35-48 lbs Video upon Request 90.5% golden Retriever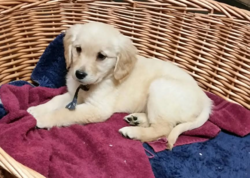 Lady boy below is more outgoing than his brother pictured above.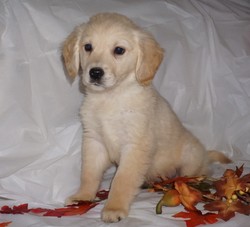 Kira X Kokomo Litter below!!!! 82.5% Golden Born 10/29/16!! $1500 (gold) $1800 cream (Christmas shipping)
Likely to mature 32-45 lbs

5 males available as of 11/30/16
0 females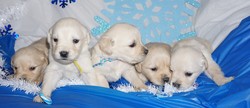 Amy X Woolebear pup below: (we have 2 but only one is posted)
Should mature 28-38 lbs. One Amy pup has started training and is ready to go now. He is started on crate (quiet and holding it) leash (not fighting and struggling) "come" and sit for a treat. These pups will be fully vaccinated including Rabies.
Started training price for Amy puppies is $1200. (no training price: $700) 79.5% golden
(Video available upon request)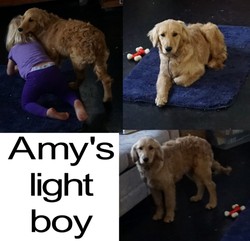 Jamaica X Mickey litter below:
Likely to mature 33-48 lbs
70% golden retriever
2 Females available as of 12/4/16
2 Males available as of 12/4/16
$1500