Puppies
NEW PICS AND PUPS BELOW!!!
Please see our "How To Reserve A Puppy" page if you are not finding something you are interested in on this page. We WILL add older pups to this page as we are able to work with them and assess them better.
NOTICE: Next Idaho trip is mid may (possibly) and memorial day weekend (likely) 2020
We can deliver puppies and adults along the route. ( We may offer some discounts on adults that go on this trip) Helena, Missoula, St. Regis, Kellogg, Saint Maries.
Read "about" Miniature golden retrievers by clicking HERE
***Update #1) Did a miniature mating between Teddie x Jakey May 27. Please get on this list if interested as we are already filling our list. Puppies will likely range from 33-47 lbs and is considered a miniature litter.
***Update #2) We plan to do a mating between Hallie and Oakley about the 20th of May. Puppies likely to arrive Mid to late July, Ready to go home mid to late Sept. Litter has some availability. Puppies will likely mature between 28-38 lbs and might have miniature and toy sized puppies in it.
2 half poodle (low shedding toy (1 is likely tiny toy)) red males were born to cherry on 5/26!!! See toy and tiny toy red pricing on our price page!
BLIZZY X OAKLEY male pup born 3/1/20!!! Toy red male! Beautiful boy! Likely to mature 28-35 lbs! Can bring him to Idaho early June!!! $1700
Callie X Oakley Toy Male born 10/3/19. He is about 22 lbs now so will likely top out at 25 lbs. (can take him to Idaho early June!!!)
Not much for training yet, a little shy but will blossom in the right quiet home with a fenced yard and a patient family. Lightly started on leash training, knows how to use the doggy door (controlled space not whole house) $1200 (price to increase with training)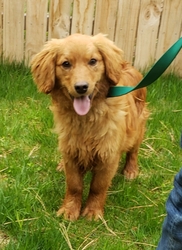 "Ace" is an Abbey X Max son (pictured below) who is gorgeous and near perfect. He is about 43-48 lbs and was born 7/26/19. Ace has a great disposition and is a beautiful English Cream Miniature Golden Retriever that is ready to start his training. Ace has a scar from an injury when he was a puppy so is discounted to $1000 (short time only) to get him into his permanent family home! We are making a trip to Idaho early June if you want to pick him up there?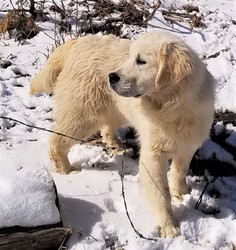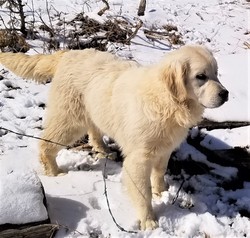 NOOOO......I was NOT playing in the mud!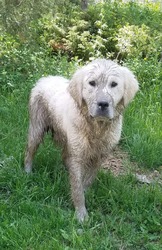 All puppies have a 2 year written guarantee to be free of all life threatening genetic defects or we will replace your puppy. All puppies will get at least one shot and be dewormed while here. We are a FAMILY breeder of miniature golden hunting dogs and all of our dogs are indoor/outdoor dogs. Raising suitable family and hunting dogs is our main objective. Because we have "little ones" too, temperament is a KEY factor in our breeding program.
We do not sell as breeders. Spay and neuter required.