Toy Golden Puppies
PLEASE SEE INDIVIDUAL PRICES ABOVE EACH PUP!
Toy pricing is typically $2100-$2800
ABOUT Toy Goldens: #1) I DO NOT LIST PERCENTAGES ANYMORE! There is no point to keep doing it. We are many generations down the road. If you like the parent dogs, go with that. If we breed back to a purebred, those will be higher percentage puppies. If we breed back to one of our larger, almost pure bred females....those will be higher percentage puppies.
Please keep in mind that achieving a miniature golden retriever with all of its golden retriever traits is a tough chore. A Toy golden is even more difficult and there will be less actual golden in many toy matings. That being said, our golden percentage is constantly "on the rise" with even our toy matings. We do not sacrifice the golden retriever look, disposition or personality with our toys so we are very selective in choosing our toy lines. Sooooo.....be prepared for a sweet baby that is at least 50% (typically 63-82%) golden retriever in gene, but ALL BUBBLY, HAPPY, WIGGLY, golden retriever in personality!
AKC GUIDELINES RATE FROM 1-5 ( Jack Russell Terrier and Labrador Retrievers both being a 5 and Golden Retrievers being a 3)
TOY ENERGY- 2-4 (3 average)
PURE GOLDEN ENERGY- 3
MINIATURE GOLDEN ENERGY- 1-3 (2 average)
Toy Size = under 35 lbs
Typically 25-33 lbs
Although we can not guarantee size, we have come a long way and feel pretty good about most of our dogs staying within or at least close to the size estimates given.
TOY MOMS INCLUDE BUT ARE NOT LIMITED TO:
CRICKET, MONARCH, MRS. BEETLE BUG, RASPBERRY, BLUEBERRY, STORMY, HAYLEE, PEARL, PAISLEY
TOY DADS INCLUDE BUT ARE NOT LIMITED TO: WOOLEYBEAR, JACK, OLLIVER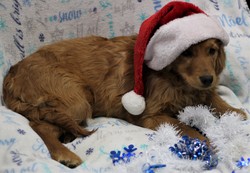 Raspberry x Wooley boy above! SOLD
Born 5/19/17

This boy is a very sweet sweet guy Very much a LOVE! This boy is a sweetheart! Just beautiful!

Likely to mature 16-25 lbs

1 male avail as of 11/21/17

$1800 each
Toy golden pricing can be seen on our size and price page:
Socialization, love and temperament.......Priceless!
A nonrefundable deposit of $500 will hold your puppy until shipping.
All puppies have a 1 year written guarantee to be free of all life threatening genetic defects or we will replace your puppy. All puppies will get at least one shot and be dewormed while here. All puppies are born in the house, cared for, and kept in a clean environment. We are a FAMILY breeder of miniature golden hunting dogs and all of our dogs are indoor/outdoor dogs. All are friendly and well socialized with children and adults. Raising suitable family hunting dogs is our main objective. Because we have "little ones" too, temperament is a KEY factor in our breeding program.
We do not sell as breeders. Spay and neuter required.