Puppies
PUPPIES: Scroll down to see any current availability.
ATTENTION: MALE DOGS DO NOT HAVE PUPPIES. MALE DOGS CAN SIRE SEVERAL LITTERS AT ONCE. WHEN ENQUIRING ABOUT PUPPIES. PLEASE SPECIFY WHICH FEMALE (MOMMA) YOU ARE INTERESTED IN BY NAME.
Read "about" Miniature golden retrievers by clicking HERE
Notice: Puppy prices can be found on our price page . Puppy size projection (mini, toy, tiny toy) is typically specified by each litter description
PUPPIES: Scroll down to see any current availability.
Puppies leave at 8 weeks of age. Shipping is VERY limited! Should in many cases be considered non existent. If you live near Seattle , Portland or Lax shipping is typically not a problem. Other places often require an overnight stay. We can "sometimes" do a nanny but not always. (let me know when your puppy is 1-2 weeks old if you need a nanny) Please be willing to pick up your puppy yourself if this is the only way. Please see our shipping page for shipping info.
Notice : NO SWITCHING/TRANSFERRING AFTER YOUR PUPPY HAS BEEN CHOSEN AT APROX 5 WEEKS!!!
***NOTICE :
If the group of puppies is less than 5 weeks old, I can NOT tell you which is available. We DO NOT CHOOSE who gets which puppy until they are 5 weeks of age. IF there are any puppies left at 5 weeks of age...we will post them. We also determine projected SIZE and COLOR at 5 weeks. Example: at 5 weeks you will see how many golds, reds, toys, miniatures, tiny toys there are. If you are the last one on the list and the puppy size / color ect is not what you wanted, you may transfer at that time.
Thanks!
CURRENT NEWS: (please note: YOU can't tell the size of a puppy based on the parents size. Please be sure to follow guidelines on our price/size page.)
Expecting: litters: Bailey X Jakey (cream miniature litter) Due mid to late October. (Limited Female space available) PUPPIES ARRIVED!
Cherry X Sparky (gold toy and tiny toy mix litter likely) Due late October (puppies go home around Christmas likely) PUPPIES ARRIVED!!!!
Sweetie x Jakey: Likely litter...no mating witnessed but we suspect she was in heat mid Sept so we hope for puppies sometime in Nov.
Maddie was bred to Jakey early Oct. For early Dec miniature gold puppies.
Hallie X Peanut (miniature poodle male) straight coated kids below born 8/18/21 She has1 male and 2 female currently available that are likely to mature between 15-35 lbs. These are half poodle so likely to be lower shedding. We have 2 toys and 1 tiny toy!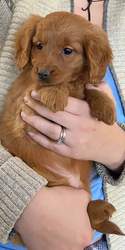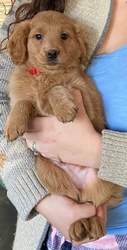 Neveah X Jakey litter below born 8/19/21 She has males and 1 female (light blue collar) currently available that are likely to mature between 27-39 lbs Neveah boys pictured below!!!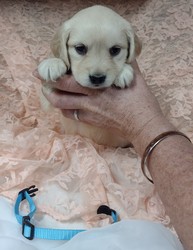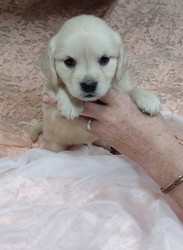 Hopper x Sparky babies born 8/29/21 below. Likely toy...possibly some tiny toys....some availability.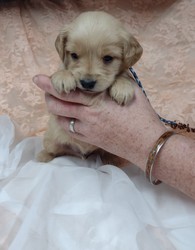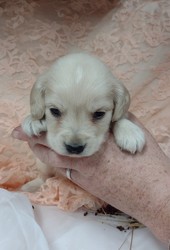 Female below: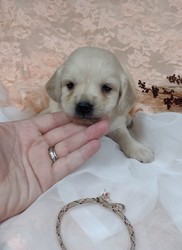 All puppies have a 2 year written guarantee to be free of all life threatening genetic defects or we will replace your puppy. All puppies will get at least one shot and be dewormed while here. We are a FAMILY breeder of miniature golden hunting dogs and all of our dogs are indoor/outdoor dogs. Raising suitable family and hunting dogs is our main objective. Because we have "little ones" too, temperament is a KEY factor in our breeding program.
We do not sell as breeders. Spay and neuter required.