Puppies
ATTENTION: MALE DOGS DO NOT HAVE PUPPIES. MALE DOGS CAN SIRE SEVERAL LITTERS AT ONCE. WHEN ENQUIRING ABOUT PUPPIES. PLEASE SPECIFY WHICH FEMALE (MOMMA) YOU ARE INTERESTED IN.
Read "about" Miniature golden retrievers by clicking HERE
***Update #1) We are currently accepting deposits for miniature and toy future litters.
Update #2) Gidget is available and is in northern ID. She is a toy/tiny toy size. crate and leash trained, not quite 2 years old yet. $1500 (spay contract required)
Accepting deposits now:
1) Hallie X Jakey - (Miniature Golds ) due early Feb - 2nd choice Male available.
2) Sweetie X Jakey - Cream toys and possible tiny toys due late Feb. 3rd choice Female available.
We don't have any other litters planned or in the works until likely:
3) Neveah X Oakley possibly due early April 2021
(Likely various colors, mostly toy litter expected. 2nd choice male available)
Baby X ? Possibly due early April 2021
Then likely fall litters.
Puppies leave at 8 weeks of age. Flight nanny planning needs to be done RIGHT at 5 weeks when choosing if you want a nanny. Pick up (including flying in) should be planned between 5-6 wks of age. Shipping is VERY limited! Should in most cases be considered non existent.
Notice #1) NO SWITCHING/TRANSFERRING AFTER YOUR PUPPY HAS BEEN CHOSEN AT APROX 5 WEEKS!!!
***NOTICE #2:
If the group of puppies is less than 5 weeks old, I can NOT tell you which is available. We DO NOT CHOOSE who gets which puppy until they are 5 weeks of age. IF there are any puppies left at 5 weeks of age...we will post them. We also determine projected SIZE and COLOR at 5 weeks. Example: at 5 weeks you will see how many golds, reds, toys, miniatures, tiny toys there are. If you are the last one on the list and the puppy size / color ect is not what you wanted, you may transfer at that time.
Thanks!
Maddie X Oakley Puppies:
Born 12/25/20 (miniature litter with a possibility of a toy or two. Will assess at 5 weeks)
1 male available.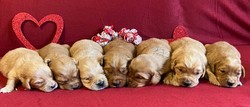 Meg x Frank toy litter pictured below; Born 12/25/20 2nd, 3rd and 4th choice males currently available.
The puppies in this litter are highly likely to resemble sweetie and Baby in appearance.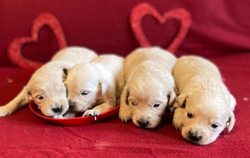 All puppies have a 2 year written guarantee to be free of all life threatening genetic defects or we will replace your puppy. All puppies will get at least one shot and be dewormed while here. We are a FAMILY breeder of miniature golden hunting dogs and all of our dogs are indoor/outdoor dogs. Raising suitable family and hunting dogs is our main objective. Because we have "little ones" too, temperament is a KEY factor in our breeding program.
We do not sell as breeders. Spay and neuter required.