Puppies
ATTENTION: MALE DOGS DO NOT HAVE PUPPIES. MALE DOGS CAN SIRE SEVERAL LITTERS AT ONCE. WHEN ENQUIRING ABOUT PUPPIES. PLEASE SPECIFY WHICH FEMALE (MOMMA) YOU ARE INTERESTED IN.
Read "about" Miniature golden retrievers by clicking HERE
***Update #1) As our litters start to arrive early October, we will be posting litters on this page (see below) that have "extra" puppies. So if you are still looking for a puppy, keep checking this page! ;) All other litters are full at this time. If you wish to be put on a future wait list, please specify size, gender and color preference when submitting your deposit.
***NOTICE:
If the group of puppies is less than 5 weeks old, I can NOT tell you which is available. We DO NOT CHOOSE who gets which puppy until they are 5 weeks of age. IF there are any puppies left at 5 weeks of age...we will post them. We also determine projected SIZE and COLOR at 5 weeks. Example: at 5 weeks you will see how many golds, reds, toys, miniatures, tiny toys there are. If you are the last one on the list and the puppy size / color ect is not what you wanted, you may transfer at that time.
Thanks!
Another high % MINIATURE golden litter by Bailey and Kokomo! Primarily creams. 2 males only available in this litter born 9/22/20! Projected weight is 33-59 lbs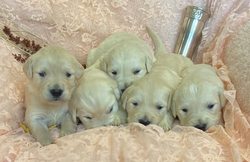 Miya X Oakley litter born 10/6/20. 3 Males currently available.
This is considered a miniature mating with weight estimates between 33-47 lbs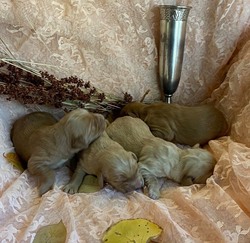 All puppies have a 2 year written guarantee to be free of all life threatening genetic defects or we will replace your puppy. All puppies will get at least one shot and be dewormed while here. We are a FAMILY breeder of miniature golden hunting dogs and all of our dogs are indoor/outdoor dogs. Raising suitable family and hunting dogs is our main objective. Because we have "little ones" too, temperament is a KEY factor in our breeding program.
We do not sell as breeders. Spay and neuter required.