older puppies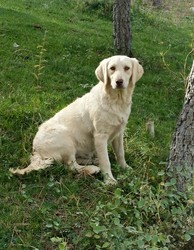 Skye X Oliver Female above born 2/10/18 Name (TBD)
Likely to mature 36-43 lbs

English cream in color

Sweet little lady, but will likely need a place where the environment is more country like.

She walks on a leash, has been crated and we will work on more training in a couple of weeks as time allows.

Available now

for $1800 including shipping, crate, rabies, health certificate....

Can be shipped after 11/3/18
Liberty X Jack
Puppy Below born 2/1/18
Likely to mature 30-38 lbs

Way sweet boy

He is started on crate and leash training and loves to follow us around the farm. He is a total love and will likely do best in a quiet, country environment as there is nothing city like out here. They just are not acclimated to the city once they have lived here this long.
$1800 including shipping, crate, rabies. Ready to ship after 10/22. It typically takes up to a week to get the flight and health prepared to ship.
See him in the parent videos ......one of the last two videos he snuck in. We are calling him Buddy. :)