Puppies 10-24 weeks old!
Kira X Maui had their puppies on 11/3/17!!
Size range should be perfect at 30-45 lbs

Males $1600 (2 available) 1 male with blemish $800

Females $1800 likely to mature under 37 lbs (1 females avail)

74% Golden

Ship time frame = Ready Now

This is our second litter between Kira and Maui and we were blessed to have an older pup her until he was about 8 mos old. We were very busy so we had little time to socialize ect. When we finally brought him in for house and play time, he only took a couple of days to be part of the family. He had the best, easy going temperament, soft mouth, kind disposition, beautiful golden look and eyes.....Just a really nice boy. This is a proven mating with very handsome offspring and good dispositions.
Kiras boys directly below: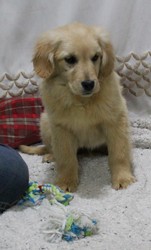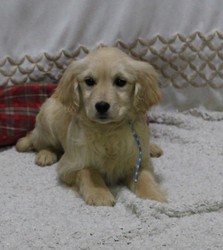 Kiras boy with the blemish on his forehead pictured below:
It is the equivilant of a scar. What happens is that momma sometimes gets too close with her teeth when pups are first born. This has nothing to do with the health of the pup but it is a cosmetic flaw. ;o(
He is reduced to $800. He is a very sweet, friendly pup and is totally thinking he needs a family he can call his own. ;o)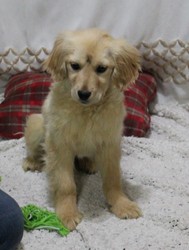 Heavenly X Wooleybear had their pups on 11/20/17
Likely to mature 37-48 lbs

males $1400 (1 available)

73.5% golden retriever

Ready to go now!
Heavenly's Pretty boy....below: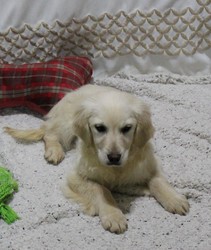 Ivory had her pups by Jack on Nov 23, 17 (Thanksgiving morning)
Pups likely to range between 25-37 lbs
Males $1600 (1 available)
Females $1900 (0 available)
Shipping ready now
81% Golden Retriever
Ivory's Boy below: CLICK ON PICTURE TO ENLARGE!!!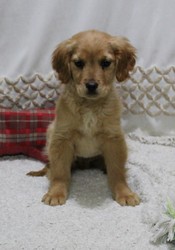 Kiras last little girl pictured below: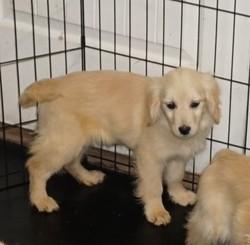 Symphony and Wooleybear had their pups on 11/17/2017
Likely to mature between 30-48 lbs

females $1700 (1 available )

1 male $1400

73.5% golden retriever

Ready NOW!!!
Symphonys Kids below:
Girl on the right boy on the left.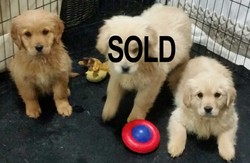 Symphony's girl below: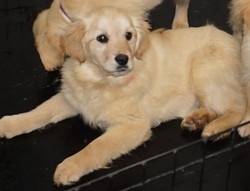 Blossom had her Miniature Lab puppies by Slim on 11/22/17
Labs (miniature included) are heavier by nature so they may be the same size in stature but will be heavier than a mini golden of the same size and appearance.

Likely to mature 35-55 lbs (Miniature lab size)

Females available $800 (deposits $200) Yellow females available Sweet mellow dispositions.

Shipping "about" Ready now!!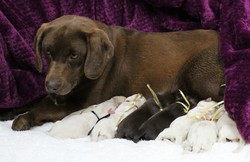 Blossom currently has yellow girls available. CLICK ON PHOTOS TO ENLARGE!!!