TESTIMONIES PG 2
Here is a photo of Little Hunter (Hopper x Squirt, 4/21/2015) on the dashboard of our RV. It's a nice shot to show the conformation (even my snobby Golden Retriever purist friends have had to admit that his look and proportions are amazingly close to perfect, in a smaller package) and petite size. He is a great little dog and he acts exactly like our big Goldens did.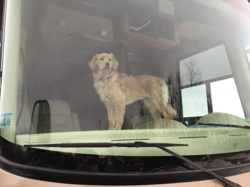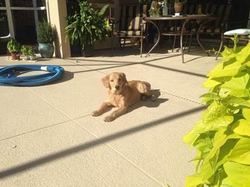 Shannon – Just wanted to give you an update…..today Brady (PICTURED ABOVE) is 6 month's old (Wooley and Winnie - Born 8/28). He is the sweetest most handsome boy ever! EVERYBODY falls in love with him and I couldn't be more pleased regarding his disposition, friendliness, happiness and all around loveable little boy!!!!! He went through obedience training with flying colors and gets to go to the doggie park 2X per week to romp and let loose with other dogs…..very well socialized with all sized dogs…….BTW we weighed him yesterday he is at 34 Pounds!!!! A little more than what I thought but not complaining!!!!! He has his own swimming pool and lots of neighbor doggie friends to keep him busy….just all around couldn't be happier at how he turned out……..thank you so much!!!!!!
"Paris"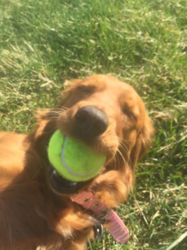 Hello, My name is Ela Yarosz and my mom Melissa Yarosz purchased a puppy from you. Paris' parents are Wolleybear and Winny.
She was shipped to Ohio on 5/9/16 and we named her Paris. She is very energetic and happy. She LOVES to run, play and swim! She is very well behaved and is a gorgeous dog. I attached four pictures of Paris. She is super spoiled!
She gets toys all the time and has her stocking overflowing on christmas morning! Every night I go to my bed and I feel a big thump on my bed and when I look beside me Paris is laying there next to me. She is always smiling! I am so thankful! I was dancing to "Write your story" by Francesca Battesteli when she was just a few months old. She was sleeping in my arms and I look at that video everyday. It makes me smile.
Now paris is much bigger and not as easy to hold.
When we picked her up from the airport, I brought her to the car and sat her down and she ran ALL over the seats! It seemed as if she was really excited to be off the long flight.
I am homeschooled so I get to spend a lot of extra time with her.
Paris is such a blessing. I am so so thankful for you to give me my dream dog.
I was praying for a dog that loves water and that is more red and has a white chest and thats just what I got!
You may put this on your website if you would like to : )
Thank you so much!
Love,
Ela