Miniature / Petite Goldendoodle Puppies
Puppies arrived!! (8/17/21)
"Differences" between Miniature Goldendoodles and Petite goldendoodles...and Miniature labradoodles opposed to Petite labradoodles
A Miniature goldendoodle Or Miniature Labradoodle has 2 breeds: #1) Golden Retriever or Lab #2) Miniature poodle. There may be 1 or more generations and there may also be back crosses to either parent breed. Those are called f1-b Miniature goldendoodles or f1-b miniature labradoodles.
When you breed a miniature poodle to a standard sized adult lab or golden retriever, the offspring can be very irregular as far as size goes.
For instance, a miniature goldendoodle litter bred this way can produce both miniature and almost standard sized puppies. The same rings true for the miniature labradoodle litters.
A Petite goldendoodle is a MINIATURE Golden Retriever, Or a MINIATURE labrador retriever / lab (please see miniature labs at www.miniaturelabs.net ) bred to a miniature poodle. This produces " Petite goldendoodles " Mini golden X Mini Poodle = Petite goldendoodle
Therefore "petite" is the type of breeding but not really the size. However, when you breed a miniature anything (golden retriever labrador retriever poodle) to another miniature, the odds of the offspring staying small are much greater. When you have several generations of "small" behind the litter (like as in a miniature golden retriever or a miniature lab or a miniature poodle) the odds of staying small or miniature sized is VERY good.
Since miniature golden retrievers have the same look, temperament, energy and dispositions as the full sized golden retriever, a petite labradoodle or petite goldendoodle are EXCELLENT choices to get that puppy of your dreams and have is actually stay "miniature" goldendoodle in size.
Mini Lab X Mini Poodle = Petite labradoodle.
Same great dog, but more likely to stay small or rather "miniature" in size.
"F1-b"

Means that a goldendoodle (50% Poodle 50% Golden Retriever) Bred back to a Poodle. OR Golden Retriever (which is the other parent breed) This is actually producing 3/4 poodle or 3/4 golden retriever.
Our location is both Central Montana and Northern Idaho. We have 2 places and go back and forth regularly all summer long.
Hallie X Peanut petite goldendoodles on the way! (Arrived 8/17/21) Likely to mature 20-35 lbs $2500 ea (gold in color)
Send me a message but be sure to put goldendoodle in the subject line. ;)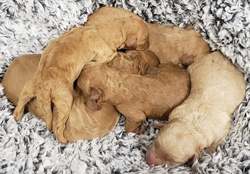 You can see a quick video of some of our past petite goldendoodle puppies here:
We are a FAMILY breeder and all of our dogs are indoor/outdoor pets. All are friendly and well socialized with children and adults. Raising suitable "FAMILY" pets is our main objective. Because we have "little ones" too, temperament is a KEY factor in our breeding.
We do not sell as breeders. Spay and neuter required.