Puppy Food / Vaccines / Wormer
Due to more pet food recalls: Your puppy will be put on Life's Abundance Premium Health Food For Small & Medium Breed Puppies For his or her safety your puppy will not be shipped unless I see that you have ordered your food from this site 10 days prior to shipping unless other arrangements have been made with me. Please read a bit more by clicking on the puppy food picture below:
"Lifes Abundance"
can be ordered on the link below if your puppy is currently on that. Also there are several pet safe products for cleaning up puppy messes as well as healthy canned food, puppy training treats, bio deodorizer that will eliminate pet odors safely without harming your kids or your pets.Dental treats....joint and vitamin supplements ect please check it out!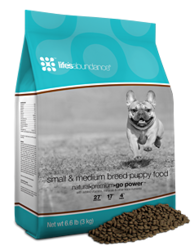 In our quest for health.....both human and critter alike....
I am finding that what God made is prevailing over all that we "think" we know.
I am finding that whole foods in their original state without GMO's,
Hormones, or other "trash" is really what is best for our bodies. This
is not about a "fad" diet or low fat, or vegetarian diet.....and so on blah blah blah.....
It is about taking charge of our own health. It is about getting rid of the Poisons in our diets! THAT is a great place to start!
For us (people): We are Doing non GMO, Organic, no aspartame, no sucralose, no non organic soy, no high fructose corn syrup, msg, bht, ect ect.
We are using Xylitol and stevia for sweeteners.....
For the dogs and puppies:
We have yet to find truly effective natural dewormers that are practical on this scale. ;o(
DEWORMING:
Puppies are typically dewormed at least 2 x's but sometimes more depending on the method we use for that litter.
We usually use Pyrantel Pamoate to deworm.
Vaccinations:
Most people will pump plenty of vaccine into their puppy the minute they get it home but we do not.
We do Vaccinate our dams with NeoPar but we are still working out a vaccine protocol that works well for our golden puppies.
Golden puppies are very sensitive by nature. The can go off of food just by weaning or by vaccinating or any other stressful event.
When they go off of food, they are very suseptible to fatty liver syndrome. Fatty liver syndrome is almost always fatal in small puppies.
How they (vaccines) work:
http://www.cpryourdog.com/about_puppy_shots.php
Spot on Flea and Tick Meds:
We have been researching about the health risks of these questionable products that have been known to cause serious health issues even death. We are currently looking for a safe but effective alternative. So far.....nothing is proving to be both effective and practical on the natural end. D.E. does work pretty good for external parasites and we do use it.....but is is extremely dusty and it has to stay on for several days.