Tiny Pocket Golden Parents
Here are some of our "Pocket" golden retriever parents: I may post them on the regular parent pages too but I did want to put them here on their own page as well. These guys are all under 25 lbs. Some of the pics may not be perfect but I am using objects and other animals to help you actually visualize their size better.
Thanks again for stopping by!
Below is our 46 lb Miya beside 13.5 lb Cedar! Cedar is also a delightful little package of "Bubbles" We had to adjust her previous weight to her "after having kids" weight. Cedar is a delightful 13. 5 lb Pocket Golden Retriever full grown.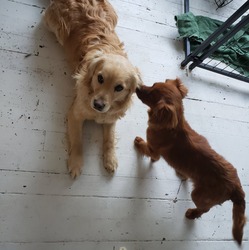 "Sparky" is a delightful, 17 lb cream, Pocket Golden Retriever male with a very happy, bubbly disposition. He is not only adorable...he also brings much joy. ;) Jug is so you can see his tiny stature! Sparky is a full brother to Taylor Made "Huxley".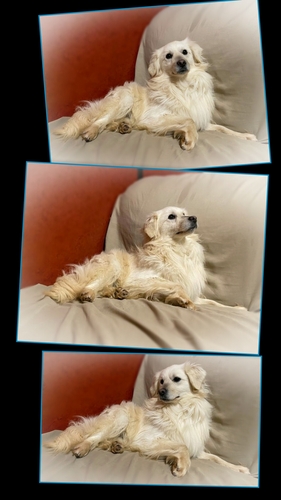 Rainy, is about 18-19 lbs and is actually half poodle! She is more reserved than the other "kids" and is more like a "lady". She wants to be right with us and we expect her to be a great little momma.